List of Top Best Schools In Pakistan 2023
Who doesn't want his kid to study in the best school? Are you confused in deciding which schools are best? So here we are for your help!
Any citizen of any nation has the right to get an education. Pakistan is a developing country working hard to improve education for its citizens. It is at the top of every Pakistani government's priority. Every child's foundation is a school, the first step toward education.
Pakistan's government has created several schools. Along with government schools, there are private schools that individuals have created to give an excellent education to all Pakistani students.
The tendency of sending children to private schools has accelerated over time. People choose to send their children to private schools rather than public schools for some reason. If our nation wants to flourish so good education is a basic need.
In this article, we have enlisted and discussed the best schools in Pakistan, both private and public keep reading to dig out the best option for your kid and make their future secure.
List Of Top 6 private schools in Pakistan
#1. The City School:
A school whose buildings aren't as ancient as other schools have rapidly increased throughout the nation in recent years. This co-ed institution provides a pleasant environment for students to develop their talents.
The City School is Pakistan's second-largest private education corporation, separating preschool and secondary school sites.
The school is working with a cooperative effort of Cambridge University and various other national organizations, having both the UK's National Curriculum and the Pakistani Curriculum.
The City School, located in Islamabad, has made it easier for all residents to get a great education and invest in their children's bright futures without a shadow of a doubt. Apart from its branch in Islamabad, there are many branches of The City School in Pakistan.
Contact Details:
31-Industrial Area, Gurumangat Road,
Gulberg III, Lahore, Pakistan.
Call : +92 (42) 35773069-77
Fax : +92 (42) 35773065
Email :

[email protected]
#2. Bloomfield hall school:
Bloomfield hall is one of the old schools of Pakistan which still provides quality education. This school, Bloomfield, was established by the educationists of Pakistan and UK in the year 1988.
However, the main aim of this school was to offer British-style education. The students of Bloomfield Hall school are given proper training for A and O level examinations of the UK examining bodies.
Bloomfield Hall School has locations across Pakistan, including Attock, Bahawalpur, Chakwal, Faisalabad, Gujranwala, Gujrat, Islamabad, Kamra, Kharian, Lahore, Lalpir, Mirpur, Multan, Okara, Peshawar, Rahim Yar Khan, Sargodha, Sahiwal, Sheikhupura, and Sialkot.
Contact Details
Address: 13 – A, Block S, Gulberg II, Lahore – Pakistan.
Contacts: +92-42-35764687 / +92-42-35764290
Website: bhs.edu.pk
Email: [email protected]
#3. Beaconhouse School System:
The Beacons house school system aims "Seek of light," and by following this saying, they successfully provide quality education to date. It was established in November 1975.
You know what? Beaconhouse school system has around 30 branches in different cities of Pakistan. The nature of education is one thing you'll notice right away in the Beacon House School framework.
The school environment is very concentrated and efficient. It also provides time management, teaching processes, teamwork, fulfilling goals and objectives, and other teacher training to its educators.
BEACONNECT – Beaconhouse School System
10-11 Gurumangat Road, Gulberg III Lahore, Pakistan
111 277 111
+92 42 35712027
Website: beaconhouse.net
Email: [email protected]
#4. SuperNova School:
SuperNova School is a private school in Islamabad, and it is one of the important schools in Islamabad. Preschool, elementary, middle, O, and A-levels are all available. The school engages its pupils in a variety of extracurricular and extracurricular activities and the curriculum.
No doubt it's one of the important schools as it is present on Cambridge International Exam's list. For instance, a school may observe Peace Day teach pupils about the value of peace. In addition, the school offers a variety of services, including computer lessons, gyms, and other amenities.
Also, the professors are kind and accommodating, and they work tirelessly to ensure that each student's future is bright!
Contact Details:
SuperNova College 16 Nazim-ud-Din Road, F-8/1, Islamabad.
sns.edu.pk
+92 (0)3 111 767 333
#5. Lahore grammar school:
Lahore grammar school is one of the finest options for your kid as it provides an environment where your children can flourish and learn new things. Lahore Grammar School, or LGS for short, is a standout amongst other tuition-based school structures in Lahore.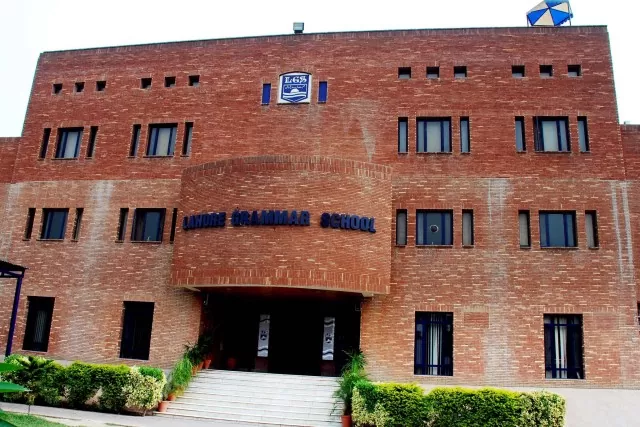 The finest aspect of gaining confirmation in LGS is the nature and teaching of LGS and the fact that it is affiliated with the Cambridge Board of International Examinations for the O and A Level projects.
Contact Details:
+92 42 35712566
General Inquiries for LGS 55 & 30 Main Gulberg, and 31 FCC Gulberg only :
lgs.edu.pk
#6. Karachi grammar school:
Karachi grammar school is one of the old private schools of Pakistan. Even its second oldest school in South Asia.
With time, Karachi grammar school has made three campuses where around 2000 students are studying. KSG is famous for its number of distinctions of O and A level each year.
The popular alumni of Karachi grammar school are Akbar Bugti, a former governor of Province Balochistan, and Benazir Bhutto, former prime minister of Pakistan.
KGS Contact:
| | |
| --- | --- |
| Head Office Address | Kheyaban-e-Saadi, Block 5 Clifton, Karachi |
| Phone/Contact Number | (021) 35821703 |
| Email | [email protected] |
| Website | http://www.kgs.edu.pk/ |
List of Top 4 public schools in Pakistan
#1. Sadiq Public School (SPS)
Sadiq Public School (SPS) is Asia's biggest school. Even it's built on a total area of 451 acres. It is devoted to educating youngsters from Kindergarten through A 'Levels. It presently educates over 600 female students after building a ladies residential and school part in 2004.
SPC was founded with the support of Sadiq Muhammad Khan V, the then Ameer of Bahawalpur, who donated one million and nine hundred thousand rupees to the school's construction.
Sadiq Muhammad Khan V lay the foundation stone for constructing a total of nine structures. The school's regular courses started in 1954.
Contact Details:
Sadiq Public School
Ahmedpur Road Bahawalpur Punjab, Pakistan
Email & Website
Telephone
062-2877692
062-2877693
062-2877694
#2. Aitchison College
Aitchison College, Lahore, was founded in 1886 and is one of Pakistan's most prestigious educational institutions. However, it offers a semi-private young men's school for boarding and day understudies.
The finest part about this school is that around 90% of young men who graduate exams overseas for their lone ranger program go to the world's top institutions.
Aitchison provides its employees with private advantages, perks, and retirement plans, as well as access to the vast grounds and other activities such as pony riding and so on.
When educators must stay on campus for extended periods during school events and test days, they are also provided with free lunch and tea.
CONTACT DETAILS
Postal Address:
Aitchison College, Shahrah-e-Quaid-e-Azam, Lahore 54000 Pakistan
UAN: [92 42] 111 363 063
Fax: [92 42] 3636 2989
aitchison.edu.pk
#3. Convent of Jesus and Mary
The convent of Jesus and Mary is situated in Lahore, also known as Convent. Its only one school in Lahore, Punjab, where only girls study. They work hard on the allover development of the child and bring out their personalities.
They also look into the personal needs of students. Till now, this school has educated around 2300 girls ( age between 4-18 years old).
You know what? The Convent of Jesus and Mary, located at 86 Clifton Karachi, is an educational institution run by the Sisters of Jesus and Mary, who run similar schools all over the globe. In 1842, the first group of Sisters arrived in India.
Sialkot's Convent School was established in 1856. In the same century, further institutes were built in Murree and Lahore. However, the Convent School in Karachi did not begin until 1959, primarily to meet the educational requirements of English-speaking pupils in the Clifton region.
Contact Details:
Shahrah-Iran 86, Clifton Karachi 75600, Pakistan
(School) 92-21-35874038-39
92-21-35832329
[email protected]
cjmk.edu.pk
#4. Central Model School
A central model school is situated in Lahore, Punjab. However, CMS has two branches; one branch is in Samanabad while the other is near District court. Around 5000 students are studying in both the branches.
This school, CMS is established in 1883 as a middle school. Later in 1888, the middle school was upgraded to a high level. Mr. H.T. Nolton, the headmaster, discontinued junior classes in 1920, but they were reinstated in 1940 by Mr. M.A. Makhdoomi, the school's first Muslim headmaster.
From 1891 through 1991, the Central Model School functioned as a laboratory school for the Central Training College. In 1990, the school was given autonomy with its board of governors.
Contact Details:
Address: Lower Mall, Lahore.
Phone: (+92) 42 37239962
Email: [email protected]
Website: gcmslowermall.edu.pk
Conclusion
Here the article ends, now you know the best schools in Pakistan. No doubt people prefer Private schools over public. However, all the schools on the list are reputed, which not only gives quality education but grooms your kid's personality.
The school has a major role in the development and growth of the child. Apart from good education, other brain development and sports activities should keep students mentally and physically fit.
But make sure before choosing a school for your kid, do proper research on your own! Check out their activities and other criteria as a school play an important role in the development of the kid.
Also Check: List Of Best Schools in Lahore